Rosemary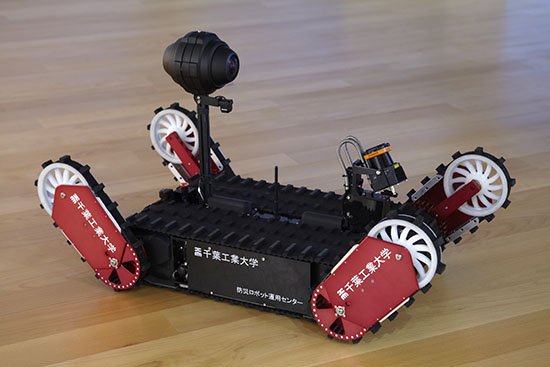 Rosemary – A Robot to Work in Severe Disasters
Rosemary surveys the inside of a nuclear power plant. In developing Rosemary, Chiba Institute of Technology used a variety of information gained through the operation of the Quince rescue robot at the Fukushima Daiichi nuclear power plant.
While sharing almost the same size and appearance as Quince, Rosemary has the following new features:
(1) Load capacity of 60 kg (Quince's is 20 kg.)
(2) Plug-in charging system (Quince runs on replaceable batteries.)
(3) Three-year maintenance-free operation (Quince needs regular maintenance every two months.)
(4) Operation for over six hours (Quince lasts about three hours.)
With the greater load capacity, Rosemary carries heavier measuring instruments. The plug-in charging system and maintenance-free structure reduce worker exposure to radiation. These functions are essentially for surveys at a nuclear power plant.
| | |
| --- | --- |
| size | 500 mm (W), 700 mm (D), 170 mm (H) (mm) |
| weight | 45kg |
| payload | 60kg |
| battery | available more than 6h. |