morph3: The Desktop-Size Humanoid Robot toward a Metal Athlete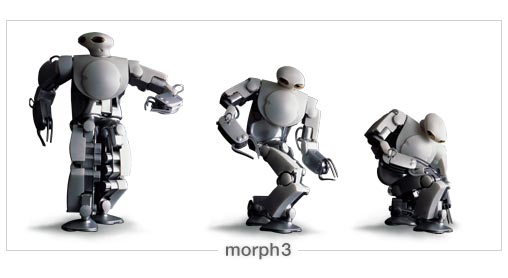 The primary concepts behind the morph3 development can be summed up in the phrase "metal athlete robot." Conventionally, robot exterior-shape design has been conducted independently of its mechanical design, resulting in enclosures covering the entire robot system. In order to realize the high athletic ability, however, such typical configuration approaches generate several drawbacks, e.g., restrictions of joint angle ranges and undesired weight accumulation.
In the development of the morph3, an effective integration approach of robot shape design and mechanical/electrical system design is adopted, and the advanced body performance is achieved toward a metal athlete, shed of all excess weight, just as an athletics competitor does.
morph3 developed in the ERATO Kitano Symbiotic Systems Project of the Japan Science and Technology Agency (JST)and Leading Edge Design(*1).
Specification: Semi-Autonomous Humanoid Robot
The morph3 is equipped with a wide variety of electrical components, including a main CPU module capable of high-speed floating-point arithmetic, a powerful graphic processing module, and several satellite CPU units driving joint actuators. In addition to these computing modules, numerous sensors (138 internal and external sensors) are space-effectively distributed on the body and connected via on-body computer networks.
Materials
1. extra super duralumin
2. acrylonitrile-butadiene-styrene resin
(*1)
L.E.D. (Leading Edge Design)
Design engineering group led by Shunji Yamanaka, an industrial designer. L.E.D. specializes in the development of various types of advanced instruments including the two-thumbs keyboard "tagtype", Humanoid "morph3", Issei Miyake's wristwatch "INSETTO", and the wireless card ticket examination system "SUICA", all of which have been developed in recent years.