CHERI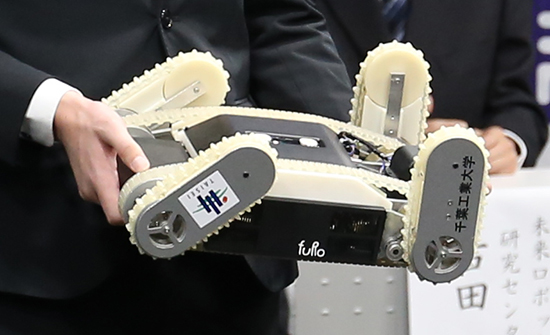 movie
A remote-controlled attic inspection system has been developed. - Utilizing the inspection Robot "CHERI" to improve the efficiency of an inspection operation.
Chiba Institute of Technology (Board Chairman: Osamu Setokuma) and Taisei Corporation (President & CEO: Yoshiyuki Murata) teamed up to develop an attic inspection system by installing a camera mechanism onto the remote controlled, compact and light inspection robot "CHERI". This enables implementing efficient operations in dark and narrow spaces, even filled with complicated pipes and wiring.
Recently, many accidents like the collapse of ceilings with finishing materials, which occurred during major earthquakes, raise the challenge of the inspections of the degradation, and seismic evaluations have been increasing in order to maintain buildings. Generally, the space above a ceiling consists of non-structural materials such as ceiling joints, ceiling joint receivers and the space is usually narrow and dark. Above the ceiling, ducting, piping, lighting and wiring etc. are usually installed and there is not enough space for humans to enter for the inspection. Although the ceiling inspections are done by a visual inspection from an inspection hole currently, it is necessary to understand the bigger picture and also the detailed situation for disaster risk management.
Chiba Institute of Technology and Taisei Corporation jointly developed an attic inspection system: A remote controlled inspection robot developed by the institute, with a mounted camera mechanism developed by Taisei Corporation, which enables the robot to record inside the confines of the space above the ceiling. By adopting this system, it can access the areas that cannot be seen by a visual inspection and by acquiring various image information, more detailed inspection will become possible.
The features of the attic inspection system are as follows:
(1) An inspection robot operates efficiently, overcoming steps of about 65mm in height, including ceiling joint or ceiling joint receiver. The robot is able to pass under a duct or pipes if there is a space over 100mm.
(2) A camera is mounted at the front of the inspection robot. The robot is able to operate inspections and record clear still images and videos in real time with an attached LED light which is operated with only 10 lux of light. The camera height is adjustable up to 300mm for image capturing.
(3) The inspection robot and camera is remotely controlled via wireless LAN. The operator can observe the inspection process on the monitor screen and control its direction, speed, camera angle, and display size etc. from a computer.
(4) Gathered images will provide more detailed information in an expanded search area when compared to a visual inspection. Additionally, this approach will also enable the detection of problematic ceiling materials or the deterioration of a building and identifying hazard points.
Chiba Institute of Technology and Taisei Corporation will adapt the ceiling inspecting operation accordingly to actual buildings in cooperation with research companies who operate building inspections and initiate practical application.
※ An inspection robot "CHERI" is compact and light with these dimensions: length 350mm, width 250mm, height 90mm, weight 4.5kg, and has a capability of traveling over 150mm single step. A total of six crawlers (two on the main body, a pair on each end); of which four of the crawlers at each end have the capability to change its angle to navigate steps or to bridge over a gap.